My interest in gaming started when my parents got me one of these for Christmas as a kid...
It came with a cartridge with several games, such as basketball, tennis etc, but what made it for me was the fact that it came with a realistic gun controller. It started out as a pistol, but came with a screw-on butt and barrel, to transform itself into a rifle. The only trouple was, the shooting games were so sensitive to light, you could only play them with the curtains drawn
I was a bit jealous of my mates at school at the time, as they all had Atari or Intellivision consoles...
I eventually persuaded my folks to get me one of these bad boys, the BBC Micro Model B...
I would spend many a happy hour on this after school playing these:
Elite
JCB Digger
Repton
Next came the Commodore 64 and ZX Spectrum, with such faves as these...
Summer Games
Way Of The Exploding Fist
Pitstop II
Commando
My next purchase was the Commodore Amiga 500
It even had a mouse and games came on 3.5" discs, instead of cassette tapes. My faves on the Amiga were
Speedball II
Xenon II
Kick Off 2
Then I got a Sega Megadrive, whicvh I think I bought off a friend, for about £50. It was a Japanese version that came with Sonic The Hedgehog, but played games from all regions.
Desert Strike
Road Rash
Streets Of Rage
After the Megadrive came the original Playstation, which I bought on release day, for around £300
Among my faves on the PS1 were:
Destruction Derby
Tekken 2
Tomb Raider
International Superstar Soccer Pro
Around the same time, I got myself an N64...
Spent most of the time on these:
Mario Kart 64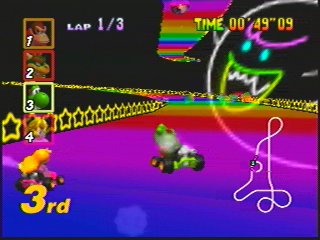 Star Wars: Rogue Squadron
Goldeneye
The last system I had before my 360 was the PS2
The games I loved on the PS2 were
GTA III
Timesplitters 2
Need For Speed Underground
If you don't remember half of these, don't worry - it just means you're not an old fart as me